Collaborations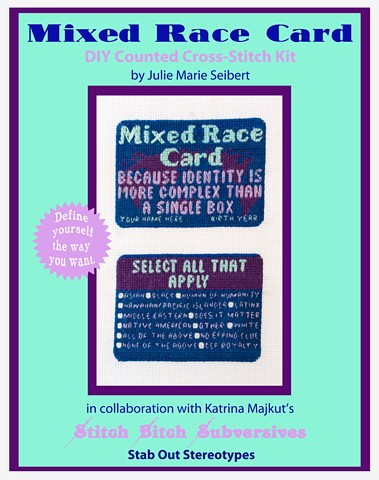 Mixed Race Card, DIY Counted Cross-Stitch Kit
Paper, thread, needle, aida cloth in plastic,
8.5" x 11"
2019
Hello Fellow Mixed Race Stitchers!
How many times have you been asked, "So what are you?" as if you are some sort of mysterious centaur, mermaid, or sphinx? Have you spent your life listing the countries your family "comes from"? Have you passed endless hours trying to figure out how your hair works? Was fusion cuisine a staple in your home before it became a restaurant trend? Have you struggled with forms
that expect you to fill out your race and ethnicity as if it's a straightforward and easy thing? Sometimes it can be even harder to receive identity politics pressure from family members.They want to know why we don't speak their language, celebrate their holidays, or know how to cook their traditional meals. It can often feel as though we are under a microscope at every family gathering, being race-splained there about how we're mestizo, mulatto, hāfu, hapa, or mixed-race kids. And did I mention, the "harmless" racist jokes as a backhanded way to make us feel "included" in the family fun when it does quite the opposite?
Whether you were born knowing your ethnic makeup or have debated spitting into a DNA test tube in the hopes of proving that you are, in fact, royalty—you are not alone. I see you. Navigating your identity and managing other people's expectations of it is hard. It can feel like the world is taking what makes you special and turning it into something that makes you an outsider, or pressuring you to choose a side, or forcing you to embrace tokenism for the sake of Diversity.
If any of this resonates with you, you're like me and have been "othered" most of your life. The world and the people in it want you to play the "Mixed Race Card," when all you want is to feel that sense of relief when you see "Select All That Apply" on a form.
The Mixed Race Card DIY Embroidery Kit is a chance to cathartically share your voice about all those experiences and more. It's a place to turn something negative into a positive, to gleefully "select all that apply" or fill in anything that captures the essence of you (be that a magnificent unicorn or U.N. poster child). By stitching a Mixed Race Card, you can poke fun at those who want to unfairly box you in and write your own personal narrative that thinks outside it. I hope in doing so you find a new sense of belonging and the freedom to just be you. Again, I see you.
Happy stitching,
Julie Marie Seibert